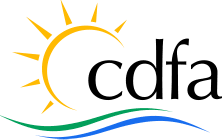 California awards $18.7 million to CalBio and Maas Energy to Reduce Dairy Methane
The California Department of Food and Agriculture just awarded $18.7 million dollars to BAC members California Bioenergy and Maas Energy for a total of 14 new dairy digesters in California. Together, these 14 projects will cut greenhouse gas emissions by almost 2 million metric tons over the next 10 years. Even more importantly for the climate, dairy digesters avoid methane emissions, which are many times more damaging to the climate than the carbon dioxide emitted from fossil fuel burning. Climate scientists have said that methane reductions are the most critical step we can take to address climate change.
According to the California Air Resources Board, the state's investments in dairy digesters are also the most cost-effective of all of the state's investments in reducing carbon emissions – on average, dairy digesters cut carbon emissions for the tiny cost of just $9 per ton, compared to an average cost of $75 per ton and some measures costing hundreds or even thousands of dollars per ton of carbon reduction.
CalBio and Maas Energy have led the development of dairy digesters in California and are leading the state in methane reductions, as well as providing carbon negative fuels and power. By providing carbon negative energy, they are also helping to meet California's goal of carbon neutrality.
For more information about the grants and CDFA's dairy digester program, click here.